I founded ABC Czepczyński in 1997. Throughout its first period, my biggest challenge was having to make hard choices and often risky decisions. Today, after almost twenty-five years of the company's operation, I can safely say that I owe its success to the balance I have developed between the most important elements of my life – family, passion, and professional work.
International shipping services /
ABC Czepczyński forms a team of professionals in the field of transport and forwarding. Thanks to them, domestic and international transport services are provided at a world-class level.
Safety guarantee /
In 2011, Safe CarGo, a proprietary and unique cargo security system, was developed, combining three key aspects: a comprehensive control system, verification of carriers' reliability and real-time monitoring of the entire order.
Advanced level of technology /
proprietary TMS system
own B2B/ B2C platform and API information exchange platform with external systems
diversification of services – outsourcing of IT and server services
centralized server architecture in a modern Data Center
cooperation with the academic community
Main industries /
FMCG, CONSTRUCTION, AUTOMOTIVE, INDUSTRIAL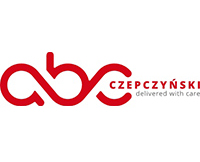 CERTIFICATES